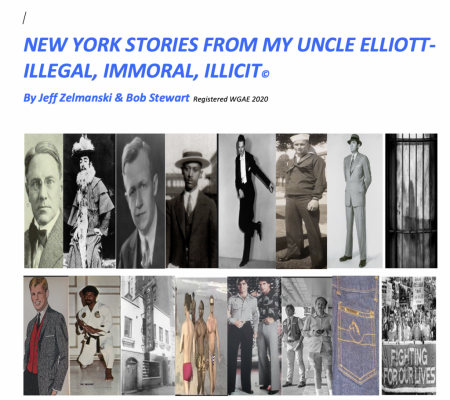 NEW YORK STORIES FROM MY UNCLE ELLIOTT – ILLEGAL, IMMORAL, ILLICIT
My writing partner Jeff Zelmanski and I just finished an epic, non-fiction theater piece about searching for the Queer-DNA of NYC's homosexual men by dramatizing, (with one-acts, monologues, and narration) the histories of unknown, undistinguishable homosexual nobodies, (with one always named "Elliott"). NEW YORK STORIES FROM MY UNCLE ELLIOTT: ILLEGAL, IMMORAL, ILLICT celebrates and discovers the Queer linage and how those "Elliotts" survived, thrived, hid, love by allies, and died over the last 120 years.
WHY I LIKE IT: Drama Editor JANET EHRLICH COLSON writes…
This play isn't going to be for everyone but if you can stomach it, it's extraordinary. I'm not one for trigger warnings, and c'mon, if you're reading Fleas on the dog, you've gotta have some thick skins, so I'll just let you take off the kid gloves and read at your own risk. The soldiers in this story have been through hell. They speak of unspeakable things. They use unspeakable language. They are both damned and damaged. Their mothers are left to reconciles themselves with their son's traumas as well as their own – and we're along for the ride. The play hits a level of outrage and outrageousness that could cause a laughing fit at a funeral. For all its aspirations to show the human condition modern theatre is in danger of tilting into the PC and the palatable. Not this! Fuck that noise. One wishes the language and situations in this drama were merely relegated to the stage and less tolerated off of it. That said, a production of this play needs to be handled with care. One false step, and the whole thing could explode, and we're talking IED's PTSD, the whole bit. Therapy not included. FIVE STARS!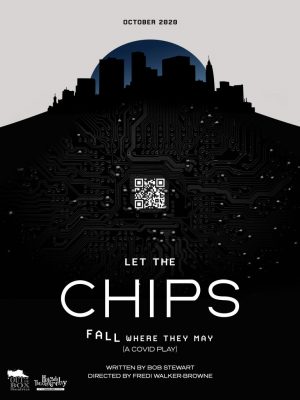 LET THE CHIPS FALL WHERE THEY MAY
Thank you to Out Of The Box Theatrics and The Holmdel Theater Company for their support. Special thanks to director Fredi Walker Browne and the terrific cast." -B. Stewart
THE UNTITLED 1969 MUSICAL PROJECT
by Bob Stewart & Jeff Zelmanski
The wonderful Patchogue Theatre produced a Reading of our epic retelling of the famous 1969 concert in Upstate NY.
CAROL OF CARROLL GARDENS
CAROL OF CARROLL GARDENS is a comedy about an elder, self-reliant, Baby Boomer trying to manage her Chronic Lymphatic Leukemia. Her journey is supported by a very patient caregiver, mystical pets, inner-dimensional portals to be studied, ever changing medical staff and a mysterious oracle.
CAROL OF CARROLL GARDENS was chosen for CLAMOUR THEATRE's Water & Clay Playwrights Retreat in January. Thank you Elaine Smith for a wonderful retreat!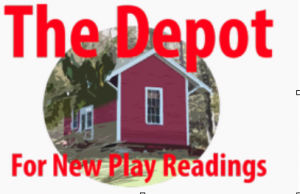 CAROL OF CARROLL GARDENS also was chosen for THE DEPOT NEW PLAY READING SERIES in CT in April. Thank you Anne Flammang for your lovely actors and review on New Play Exchange!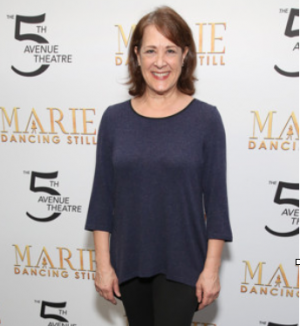 CAROL OF CARROLL GARDENS was also a 29 Hour Industry Reading in NYC in June with the terrific Tony Award Winning, Karen Ziemba! Thank you Karen Ziemba, our lovely Company, the Trilliant Entertainment, (PIPPIN, ON THE TOWN, LESS THAN 50%,) and Stephanie Rosenberg's (ANASTASIA, MOULIN ROUGE) for producing!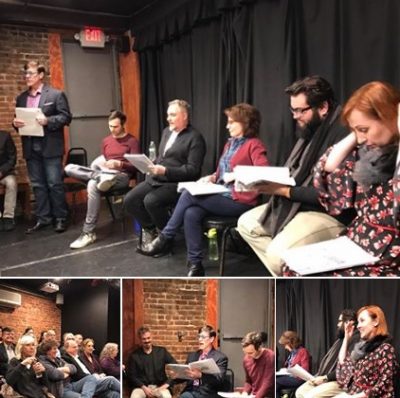 (Top picture from left to right) Playwright Bob Stewart, the wonderful Mike Smith Rivera, the amazing Christopher Borg, the grounded and touching Carolyn Mignini, the heartbreaking Robbie Ramos and the versatile and so funny Kathy Searle. Thank you all – bs
Producers Michael Rubinstein & Stephanie Rosenberg presented a Reading at The Producers Club in NYC.
CAROL OF CARROLL GARDENS
was also chosen and performed at the 2018
BROADWAYCON's READING SERIES!
Thanks to the cast and the director Erin Quill for all their hard work.
AMERICAN

INHERITANCE
In a private clinical study, a Doctor interviews a retired military man who is haunted by the memories of a secretive criminal act he committed years before. Interviewing the friends and family who hid the crime, the Doctor re-creates 30 years of memories, lies, and cover-ups. All interviews interlink and reveal the retired man's tragic abuse of male entitlement and everyone's terrifying complicity.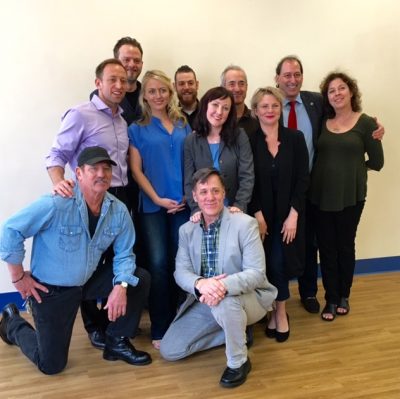 Reflecting the #MeToo, #TimesUp movement, a terrific Industry Reading by TONY Award Winning Producer-Michael Rubinstein (PIPPIN, ON THE TOWN) and director Nathaniel Shaw went wonderfully. Tom Wopat led the stellar cast that included the amazing Angelica Page, Kathy Searle, Luke Robertson, Joe Urla, and Amy Rutberg. There were standing ovations for both readings! Thank you to that glorious cast! Stay tuned for future production information!
FABULOUS DARSHAN! in L.A.
The L.A. premier of my FABULOUS DARSHAN! was performed at The Celebration Theatre in L.A. in their August Reading Series with the amazing Co-Artistic Director Michael A. Shepherd in the lead role! Along with the amazing cast: Parv Cheena, Chris Pearson, Charles Reese, Von Rae Wood, and directed by the terrific Jeffery Polk. Many thanks to Michael and the amazing company!
FABULOUS DARSHAN! in NYC
"ONE OF THE BEST OFF-OFF BROADWAY PLAY OF THE YEAR!"
By Indie Theatre Now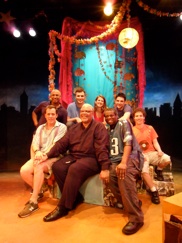 Actor Ken Page, (inspiration for the role of KEN in FABULOUS DARSHAN!) attends the NYC Production and meets the cast!
INDIE THEATRE NOW raves: "If you are someone who influences play productions at a school, theatre company or commercial enterprise, this is really worth your time. I believe in FABULOUS DARSHAN!"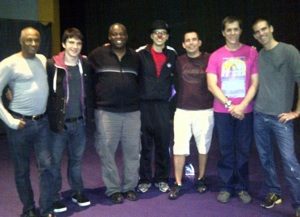 FABULOUS DARSHAN! was invited to be a Fundraiser for the Schenectady Light Opera Co.'s Rainbow Access, with the original, NYC cast! It went wonderfully and with another standing ovation! Many thanks to Chad Putman.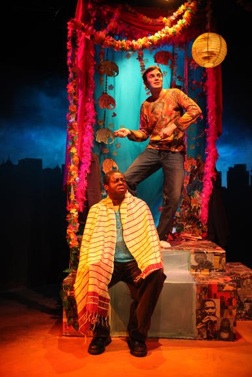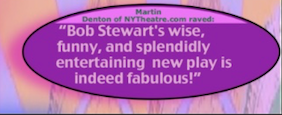 Steve Hauck of Theatre is Easy raves: "A witty and exuberant new play about learning to love!" & "I leave you with the words of my companion, a straight woman at the show, 'It made me feel terrific.'"
"DARSHAN IS UNIVERSAL! MAY YOURS BE FABULOUS TOO!"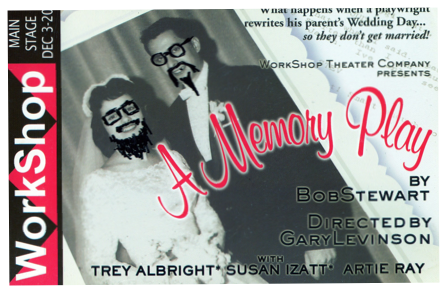 Photo by Gerry Goodstein
A MEMORY PLAY
STAGE BUZZ.COM
Review by Byrne Harrison
On Easter Sunday in 1947, Steve (Artie Ray), a cocky young G.I., married Judy (Susan Izatt) a Southern belle. What followed could best be described as a train wreck of lies, alcoholism, and the psychological damage that comes a dysfunctional family.
Many years later, Kip (Trey Albright), Judy and Steve's playwright son, attempts to undo the damage by writing a memory play about that fateful Easter, but this time, he is determined to keep his parents from marrying. Although he is the playwright and they are merely characters in his play, Judy and Steve are not going to let their past change so easily. As they put up a fight, Kip is forced to jump into the action, playing a range of supporting characters and occasionally taking over Judy and Steve's roles in an effort to keep things on track. While Kip may not end up with the commercial success that he set out to create, he does gain a great deal of insight into his parent's doomed relationship, the sacrifice that all relationships demand, and more importantly, a better sense of how his behavior relates to the lessons he learned from Judy and Steve. Acknowledging that his parents' past does not control his future, he lets go of the resentment and takes control of his life.
Bob Stewart's A Memory Play is an interesting look at relationships, the lies that abound in them, and the collateral damage they do later on. It's also a subtle send up of memory plays and the inelegant way that they are wielded by earnest playwrights who dream of writing the next The Glass Menagerie. Meaning of course Kip, not Mr. Stewart, who has written a funny and poignant piece.
Susan Izatt's work as Judy, the prim and proper Southern lady with a remarkably big secret in her past is particularly strong. While it could be easy to reduce the role to a Blanche Du Bois knock-off, she gives Judy depth. Albright's work as Kip, the narrator and playwright, is good, though he most easily seems to inhabit the role of Rydell, Judy's flamboyant gay friend. As Rydell is mocked by Steve for being effeminate, Albright shows Rydell's dignity while also showing Kip's hurt. Though he knows his father came to terms with his homosexuality, Kip can't help feeling insulted by Steve's treatment of Rydell. Albright plays this ambivalence well. Artie Ray's character work as Steve is solid, especially in scenes where he goes from being a cocky 20-something G.I. to being the older version of himself dealing with the fallout of the relationship.
A Memory Play is an interesting re-imagining of a familiar genre. The first play in a trilogy called The Marriage Variations, it leaves the audience interested in seeing what else Bob Stewart has up his sleeve.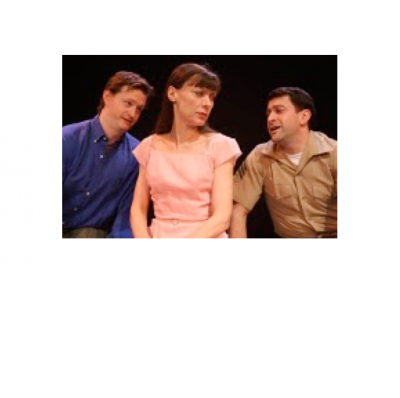 Photo by Gerry Goodstein
Show Business Weekly
Review by Kristin Forte
A Memory Play is a fantastic dark comedy that examines the inner workings of familial relationships.
The cast of three is small but extremely talented. Trey Albright is excellent as Kip, a struggling playwright who imagines a change in history by rewriting his parents' wedding night so that they don't get married. Albright gives a quirky and realistic performance as a gay man who is exploring his parents' relationship while sporadically divulging information about his private life (though he wittily stresses, "This is not a gay play").
The play focuses on the night before Kip's parents, Judy and Steve, tie the knot. Susan Izatt is outstanding as Judy, a Southern belle harboring secrets, and Artie Ray gives a strong performance as Steve, a hunky and emotionally closed-off soldier.
The play bounces around at a quick pace and leaves viewers wanting more. Kip sits on the side of the stage throughout the production, serving as the omniscient narrator. With no fourth wall, he constantly interrupts the action to correct or replace dialogue and makes jokes and observations to the audience.
Judy and Steve shift back and fourth through time, from their wedding night in 1947 to later, poignant moments in their relationship with their son. They go against his script several times, causing him to enter the scene and take their place or portray additional characters (Albright is hilarious as Rydell, Judy's sweet and flamboyant buddy).
Playwright Bob Stewart's quick and witty script tells a frank tale that is brought to another level by Gary Levinson's keen direction. Although we often insist that we would do things differently if given the chance to relive the past, A Memory Play suggests that things happen the way they must. It is a simple play that turns out to be a funny, genuine and thought-provoking production.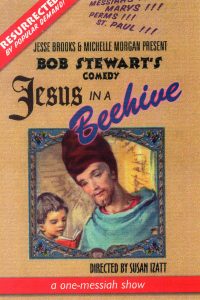 JESUS IN A BEEHIVE "The Last Temptation of Mitchell Pantene"
THE NEW YORK TIMES raves:
"Jesus in a Beehive is a wonderful tightly woven comedy!"
"Funny & Touching"
George G. Gustines
Bob as Mother Mary
"Stewart is a rubbery, vibrant comedian who handles changes like a gay Jim Carrey!"
HX MAGAZINE
more plays!!!
ALL YOU CAN EAT!
(Part III of "The Marriage Variations Trilogy")
A comedy
A 79 year old husband from A MEMORY PLAY is trying to re-unite with his 77 year old ex-wife from A MEMORY PLAY. They were married for 25 years and divorced for 25 more. In an empty Buffet Restaurant, they re-negotiate their difficult relationship, their adult children, and a family secret in an attempt to heal their lives. (90 minutes)
BONE TO PICK!
A comedy
Two children of Con Artists, (one African-American-one White) confront each other at their parent's grave to examine a betrayal in their life-long friendship. Thirty years of meeting each other at their parent's scams are reenacted around the graves. They observe the changing racial/economical face of America while trying to comically exorcise their family & friendship's dysfunction. (90 Minutes)
ScreenPlays:
CRACKER SLACKER a comedy
A 27 year old Slacker is still living with his mom & mooching off the System. Helping his over-achieving, Middle Eastern-American friend with an errand, he gets a curse put on him by a mysterious woman. The curse is revealed to be; "If you help the Slacker, you die." The curse grows absurdly worse with each day until he must stand on his own.
DRAMA CLUB a teen comedy
A self absorbed, southern, theater geek spends his last semester in High School mounting their first big musical. Determined to make this show his "Swan Song," he brings together the Football Team, the Choir, and the Marching Band for a chaotic production of BYE BYE BIRDIE.
AFTERSHOCKS a drama
The story is set in a large family living on a military base in the months before the 1964 Alaskan Earthquake. When observing the chaotic family dynamic of his brothers and sisters, an attention starved 7 year old boy discovers a family secret about his rival 12 year old sister and charismatic military father.
One Acts:
Chicken & Egg Soup, Close but No Cigar, Vanderbilt's Folly*, Steven, Jeffery & David Save Dreamworks*, The Collective, Reality Check, Hard Sell, Bethesda*, Bridget's Bardo.
CHICKEN & EGG SOUP
A Short Film adapted from my one act
A working class, elderly mother waits in a mall's Food Court with her adult daughter to meet someone. It is the child the mother gave up for adoption 48 years before.
In Pre-Production for Filming with Director Fredi Walker Browne for 2019.
Available on New Play Exchange: